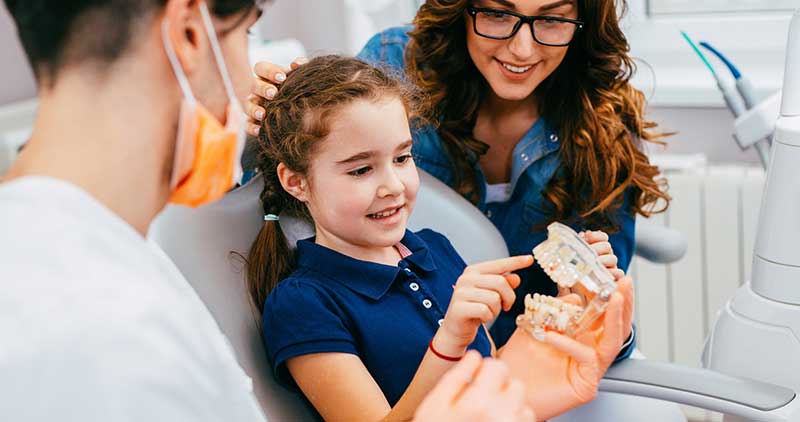 When choosing a dentist, it is important that parents prioritize a dental professional who can take care of the dental needs of each member of their immediate family. Here are a few reasons why choosing a family dentistry is the best way to ensure the dental health of your entire household for years to come.
Benefits of a Family Dentistry
Flexibility and Convenience

Having a busy schedule can make scheduling dental appointments for each individual family member difficult. Make your life easier by scheduling your family's teeth cleaning appointments at the same time on the same day, if possible. This method can help take some of the stress off of going to the dentist. By knowing you are in the room next to them, your kids will relax and enjoy a positive dental visit. This is a unique benefit that a family dentistry provides by treating all age groups.

Comprehensive Services

Services provided by most family dentists include general, restorative, cosmetic, periodontics, and endodontics treatments. A family dentistry makes these services available to all ages at any stage of oral health.

Long-Lasting Care

A family dentist has the ability and training to accommodate all life stages. Seeing the same dentist for years creates a beneficial relationship between doctor and patient. This allows your dentist to have an understanding of your entire oral history, giving you the most effective results in dental care. Having your entire family at one dentist also allows the doctor to look out for and spot inherited problems that your family could have.


Set Lifelong Habits


Adults know the importance of oral hygiene and the value of visiting the dentist twice a year to get x-rays and teeth cleanings. By going to the dentist with your kids, you can show them at an early age how important it is to prioritize their oral hygiene and help them start developing these lifelong habits.
Your Family Dentist in Leesburg, Florida
The professional family dentistry services provided by Dr. Orobitg will keep you and your loved ones smiling big and bright for generations.
For over 20 years, Eddie Orobitg, D.M.D. has treated the Leesburg community with quality dental health checkups and restorative procedures. If you or a family member are experiencing sensitivity, discomfort, or pain from cavities, then trust your experienced local family dentist, Dr. Orobitg, to take care of your family's dental needs. Call 352-787-5919 to schedule your appointment today.